BPF16 Trainee Curator Sarah French on Zero Hours Creativity by OPEN16 solo shortlisted artist Caroline Douglas
Posted 28 October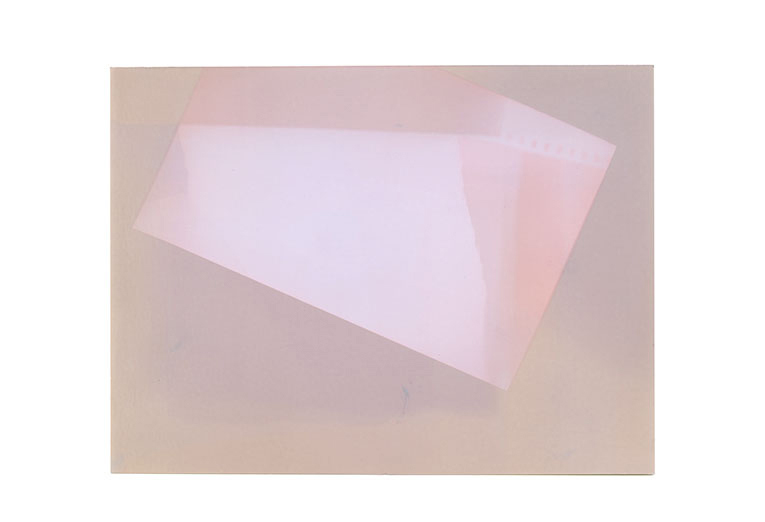 (Caroline Douglas, Zero Hours Creativity, 2015)
BPF16 Trainee Curator Sarah French takes a look at Zero Hours Creativity, by Caroline Douglas, one of the artists selected for the OPEN16 SOLO shortlist, which can be seen at Phoenix Brighton and at the BPF16 Outdoor Hub in front of St Peter's Church.
Caroline Douglas' series Zero Hours Creativity is a delightfully intriguing conceptual piece which is minimal in aesthetic with subtle tonal qualities, yet it may not initially seem to lend itself well as a digital projection; the work is inherently analogue. Douglas presents a series of camera-less images made using found light-sensitive photographic paper which she presents as shadowgrams. These disregarded, torn sheets of paper were collected from the darkroom at the end of Douglas' shift at her place of employment, where, among teaching duties, she is responsible for maintaining the darkroom. Douglas salvages the material left abandoned by students and other facility users, re-classifying them as an artwork within their own right. Through this appropriation she claims back some of her creativity amiss from contractual employment. It is this comment on the balance between labour and creativity that is central to the work- which is extremely prevalent to nearly every artist, creative and craftsperson working in today's 'age of austerity'. Since the economic crisis, controversial zero-hour contracts have increased, offering workers no secure work, often without holiday pay or other benefits. Despite pressures from national newspapers prompting the government to address the situation, this September there were over 150,000 more workers on zero-hour contracts compared to last year.
In terms of statistics, last year the UK creative sector grew at more than double that of the UK economy as a whole, but in reality this reflects how artists are finding labour and creativity inextricable and impossible to balance; artists are often too committed to teaching responsibilities or tertiary work within the sector (if they are lucky enough) that pays the bills whilst they struggle to have the time or security to produce artwork that reflects their own critical practice. Caroline Douglas has written far more eloquently on this subject herself in Creativity and Capital in an Age of Austerity for Uncertain States, which provoked a response by Lewis Bush on Art in the Age of Individualism on his Disphotic blog [4].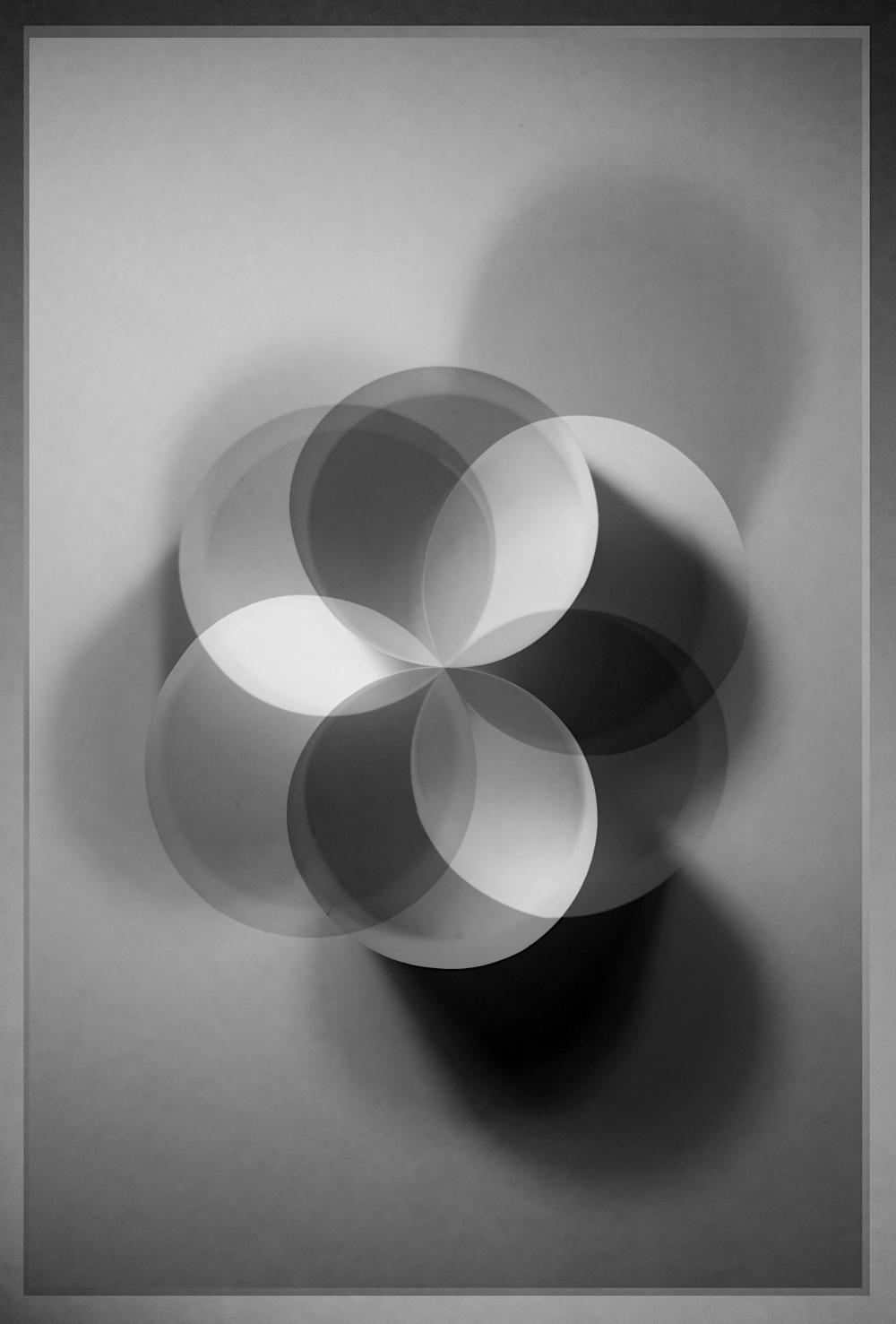 (Leroy Coppleston, from Beyond the Edge, South Downs Heritage Centre, Hassocks, Brighton Photo Fringe 2016)
I therefore want to delineate myself from this context and position Douglas' series as a development of abstraction within photography, especially as the term zero is often used with this style and capacity of photography. The zero point of photography has become a term for the more widely recognised movement concrete photography. This is a non-figurative mode of image-making that is not concerned with representing the world around us, but inwardly investigates the medium's own materiality; light, surface, chemical processes… concrete photography is photography of photography, for photography. Lazlo Moholy-Nagy had been creating luminograms since the early 1920's, though this process wasn't developed into a movement in its own right until concrete photography became established in the 1960's. Over the last decade it has received major recognition, and Beyond the Edge is another group show as part of Brighton Photo Fringe that is presenting the work of fourteen artists all presenting work situated at the non-representational end of the photographic spectrum. This popularity is largely due to Lyle Rexer's publication The Edge of Vision: The Rise of Abstraction in Photography (Aperture, 2011). Away from the BPF, René Mächler is seen as one of the champions of concrete photography. His camera-less works, including Zero Hour, 1968, (presumably exposed at midnight) were described by photographic theorist and practitioner Gottfried Jäger as 'radical minimalism' [5].
He championed this abstraction as a new beginning for photography to disassociate itself from other artistic mediums to which it has historically been considered inferior. Jäger titled Mächler's retrospective At The Zero Point of Photography at Fotostiftung Schweiz, Switzerland, 2006 [6].
Another highly regarded artist within this field is Ellen Carey who has enlisted the phrase Photography Degree Zero as concept for her practice as well as the title for a significant body of work. The phrase is a direct reference to Roland Barthes' first book Writing Degree Zero, in which he defines the complex nature of literature and suggested a removal of narrative devices to search for the essence of writing itself. Ellen Carey steps away from the picture as sign, gives no reference to subject or place (the two most primitive indicators for de-coding an image) and presents the process of photography as the subject. Carey used a large-format 20 x 24 Polaroid camera, and constantly pulled rolls of light-sensitive film through the enormous camera during the exposure to create highly saturated, elongated works which reveal the separated dyes used in instant film.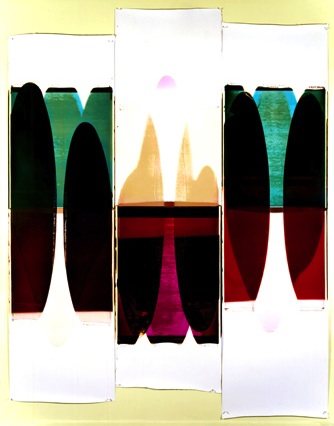 (Ellen Carey, Birthday Portrait, 1997, Polaroid Pulls and Rollbacks)
Despite similarities in both context and concept, Douglas' Zero Hours Creativity is in many ways in opposition to concrete, or degree zero photography. She considers the works in direct correlation to sculpture. The work is certainly not situated in a vacuum that signifies photographic practice itself; it's a conceptual piece that carefully comments on political, social and ethical discussions prevalent in our society. A place of reference is very much at the heart of Douglas' project - the darkroom. The quick tears of the overlapped papers, the sprocket holes of the negatives also left abandoned give essence of the recent human activity within the space. Especially if familiar with darkroom practice, questions of why the paper was left emerge; were they accidentally hidden under enlargers, had the paper at the top of the pack been slightly exposed? Was the photographer happy with the test strips, abandoning the rest of the sheet for the final print? Douglas does not intervene with the work; the paper has not been developed but the reaction to light has begun to show on the paper and therefore cannot be fixed without becoming completely overexposed. This makes the work ephemeral; the original works cannot be exposed to light or they will deteriorate further. They are already being partially destroyed through the action of digitally scanning them to document them. Recently awarded a Magenta Foundation Flash Forward award, the project will soon be exhibited in Toronto as digital prints. It would be possible to show them in their original form, but would have to be under red safety lights, as in the darkroom. Zero Hours Creativity therefore becomes a comment on the interrelation between analogue and digital mediums. The work presented at Brighton Photo Fringe as a digital projection; the process of light projected, enlarging the image on a flat surface within a darkened space, complements the fundamental nature of photography. 
[4] http://www.disphotic.com/art-i...
[5] p.272, 'Concrete Photography' by Jäger, G. in The Edge of Vision: The Rise of Abstraction in Photography (New York: Aperture, 2011), p.272. 
[6] http://www.fotostiftung.ch/en/...
Caroline Douglas' Zero-Hours Creativity is being shown as part of the OPEN16 SOLO Shortlist slideshow at Phoenix Gallery until 30 October, as well as at the Outdoor Hub.
Beyond the Edge, was at Mezzanine Gallery, South Downs Heritage Centre, Hassocks 15-28 October.
Caroline Douglas is also one of the selected artists for the OPEN16 Moving Image showreel, Phoenix Gallery, until 30 October. 
Follow Sarah French @sjfrenchie 

See more of Caroline Douglas work here: http://www.carolinedouglasphot...