Interview with Estabrak Al-Ansari winner of the Danny Wilson Memorial Award Curators' Choice Prize
Posted 10 November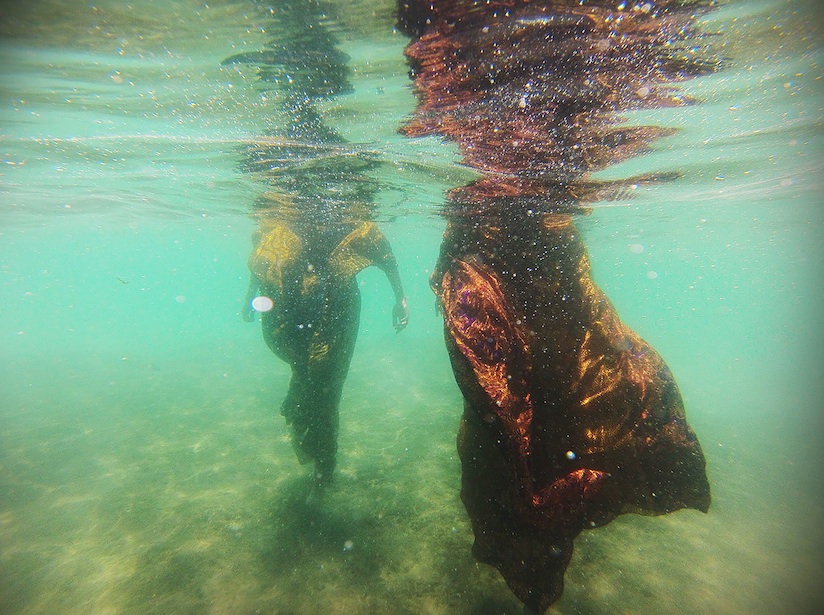 (left: Estabrak Al-Ansari, Aisha (meaning one who is alive in Arabic), right: Osama (meaning lion in Arabic), both from the series Omanis Under Water)
Estabrak Al-Ansari was selected by the BPF16 Trainee Curators as the winner of the DWMA Curators' Choice Prize for her series Omanis Under Water, which was exhibited at Socially Engaged Art Salon during Brighton Photo Fringe 2016. Estabrak is a Visual Artist & Film Maker based between London, UK and Muscat, Oman. With a family originally from Iraq, she was born in Iran and raised in London, after having come to the UK with her family as a child refugee. She has studied at Central Saint Martins College London and has a Masters in film & media production. Here we find out about what drew her to photography and the motivation behind creating her series of images which look at Omani society through water.
BPF: Can you tell us a little about your earliest experiences with photography and what drew you to the medium? What images inspired you at that time?
Estabrak Al- Ansari: Coming from a difficult background, not many pictures were available to myself or my family of a former life we once lived.
You see, I was born to a refugee family in Iran who later claimed asylum in London with Iraqi origins/bloodlines and so our refugee status didn't allow for much possessions, including photographs to be kept in our movement from country to country or even from home to home within the UK. It was never really a thought until later in life when friends would talk about their memories or showcase images of their early days when I realised the huge difference in our experiences and the lack of images we held of ours. Most of the time, this acted as some kind of internal disconnect.
I remember growing up to stories my mum and dad would tell us of Iraqi tales, of their childhood and of the freedoms that they once lived, a lot of the times never addressing the atrocities they and we were forced to face.
I don't remember looking at many pictures and still now, when we come across any pictures of times in Iraq or Iran we are all so overwhelmed with inquisitive, nostalgic and sad memory of what once was. Still till today when I feel inquisitive, I look at a family portrait; the last family portrait taken in Iran and one of the very few we have access to and somehow get lost in all it's silence.
I know it was never an artist or photographer who made me want to start to document things but my own emotions and relationship to the concept of the fear of forgetting and dialogues around concepts of existence that really helped push me towards documentation and physical representation of stories..
Because I so desperately wanted to tell ours, to tell mine.. And here I think is where my love for video and still images came, this need to represent and to showcase existence, no matter how hard the dialogue may be.
(Estabrak Al-Ansari, Mufuddel (meaning privileged in Arabic), from the series Omanis Under Water)

As for exhibitions or inspirations, I believe one of the first photographic exhibitions that I went to which overwhelmed me with empowerment and engagement was David Le Chapelle's 2002 exhibition at the Barbican in London. I was around 16 years old then and took my mum and aunt along and loved every bit of it's extravagance. Such rich beautiful imagery with so many mixed messages. At the time I also loved the sexual aspects, although now, not so much. I think it was my age which engaged with that side then. For some reason I also really enjoyed seeing my mum and aunt's responses at the obvious obscenity he brought to the photographic table!
BPF: How has your relationship with photography evolved since then?
EAA: Often, I believe my work is lead by emotions with particular interest lying in creating honest approaches towards silenced socio-political realities usually explored through progressive, multidisciplinary ways of storytelling.
When I was younger I believe I understood photography as a form of documentation as apposed to a form of art. Now I believe I am on the other end of that understanding and use still images to tell stories, not necessarily to document them but to help plant seeds for much needed dialogue around subjects, representation or realities not often explored through such imagery. Sometimes being too literal about things looses a lot of the image's power, and being able to create images to help direct peoples thoughts instead of dictating them to them, is something both very powerful and key in regards to storytelling through a medium such as fine art photography.
For me, images can act as poetry and this is something I have learnt along the years through the incredible amounts of people I have met and diverse cultures I have come to explore.
BPF:  Where do you find inspiration? How do you find your ideas?
EAA: Life & the experiences it brings are some of the biggest inspirations for most of us, I'm sure. Ultimately it's what makes us.. Nina Simone once said 'An artist's duty, as far as I'm concerned, is to reflect the times' and that's something I really hear and feel is right. There are so many silenced voices out there needing platforms to be heard and the arts is a platform that can allow for such dialogue to occur without forcing dictatorship but instead allowing for some kind of partnership or understanding with the viewer.
On a more literal term, my current inspiration lies in the sea and it's constant still moments, in it's forever changing currents that somehow seem to speak to me. My studio is currently based on the coastline of Muscat, Oman's capital city, and it is absolutely breathtaking here to wake up and fall asleep to the sounds of the ocean. It's here I feel I get to explore a lot of my ideas in regards to people, emotions, realities and water and how powerful the relationship between all four can be.
(Estabrak Al-Ansari, Sayed (meaning master in Arabic), from the series Omanis Under Water)
BPF:  Can you tell us a little bit more about the work you exhibited in Brighton Photo Fringe 2016?
EAA: Omanis Under Water is a prize winning, limited edition underwater photographic series looking at the silenced, socio-political discourses of Omani society through the simple but complex matter that connects us all; water. Through this medium, it helps shine a light on some of those traditions & faces usually gone unnoticed via the normalisation of societal uniform. It aims to act as a key in instigating much needed dialogue about issues silenced on land, but brought to light through our waters. It is a faceless project to act as a symbol for a collective understanding and consciousness towards these dialogues and not to place a specific identity or responsibility on any particular person. Of course the use of water and how it is presented and framed is key. But this is more for the viewer to hopefully engage with and not necessarily for me to dictate. But if any image could really represent this series best it would probably be Mufuddel (meaning privileged in Arabic) or Osama (meaning lion in Arabic) as both these two illustrate quite literally the concept described above. Mufuddel (meaning privileged in Arabic) for example, speaks of the silenced labour issues evident in everyday Omani life. It depicts a character (a uniformed labourer in a blue jumpsuit) carrying another (semi balanced Omani man in a white dishdasha) underwater, on the back of his manual bicycle; a specific bicycle only ridden by labourers in Oman. Without forcing context, this subtle but honest approach at documenting localised labour & worker rights allows for a glimpse into a reality held by many here and opens up dialogue both locally & globally about concepts of disguised & silenced slavery without dictating imagery or viewpoints onto others. Ultimately, the question raised is 'who really is the driving force in building this country & places like it?' 
"Socially, the ocean is an escape from the physical restraints on our bodies which act a certain way on land, to 'behave', to comply with conformities. The trauma of the Omani landscape resounds loudly in contemporary society, where the water is silent." An online review by Natalie McGuire via FreshMilk Barbados. 
So far images from the series have been part of the Royal Academy of Arts Summer Exhibition official selection in London 2016, won 2nd prize for Art Jameel's Photographic Award 2015, are a part of a major public collection in Dubai as well as having been shortlisted for numerous awards, showcases and prizes worldwide. Omanis Under Water is part 01 of a proposed global series looking at varying society's discourses through this connecting lens of water. 
Estabrak Al-Ansari is a recipient of AFAC (Arab Fund for Arts and Culture) Performing Arts Grant 2016 for her unique performance based process of storytelling 'LPP' (Live.Projection.Painting). See more of her work on her website: http://www.estabrak.org/
The BPF16 Trainee curators, Sarah French, Jamila Prowse & Ruby Rees-Sheridan, took part in a programme of talks and activities leading to the curation of an exhibition as part of Brighton Photo Fringe 2016. The exhibition they curated, King's House: In Transition, featured the work of Caitlin Chescoe and was at King's House 1-30 October.